Stock Market Closing: Today's day has proved to be a bright return for the stock market. Due to the bank, IT shares, Sensex and Nifty registered tremendous gains and the stock market has managed to close with a strong bounce.
How was the closing of the stock market
Today, the closing of the stock market has happened with great speed. BSE's Sensex has managed to close at 59,411.08 with a gain of 448.96 points i.e. 0.76 per cent. NSE's Nifty climbed up 146.95 points, or 0.85 percent, to close at 17,450.90.
Condition of Sensex-Nifty shares
Today, 28 out of 30 Sensex stocks closed with gains and 45 out of 50 Nifty stocks gained. Today only 2 shares of Sensex and 5 shares of Nifty have closed in the red mark of decline.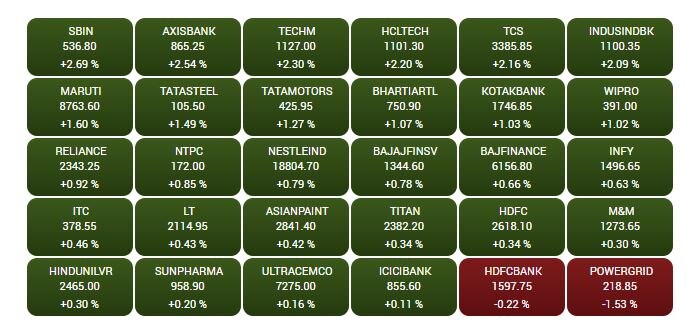 Which sectors of Nifty saw a boom
Today, at the time of closing the market, a strong rise was registered in the shares of Bank Nifty along with IT, Media, Metal, Pharma, PSU Bank and on the basis of these all the sectoral indices closed with a green mark of growth today.
Which stocks of Sensex closed above
Sensex gainers today Tata Steel, M&M, Axis Bank, Bajaj Finserv, HCL Tech, Tech Mahindra, TCS, SBI, L&T, Tata Motors, Maruti, Bajaj Finance, UltraTech Cement, Wipro, Sun Pharma, Reliance Industries, IndusInd Bank, ICICI Bank , Titan, ITC, Asian Paints, Kotak Bank, HUL, HDFC, Infosys and Bharti Airtel are trading with a boom today.
Which stocks of Sensex closed down
Two Sensex stocks closed with a decline today, in which the names of HDFC Bank and PowerGrid are. The Nifty stocks that have fallen include the names of Britannia Industries, PowerGrid, Cipla, BPCL and HDFC Bank.
read this also
GST Collection: GST collection reached Rs 1.5 lakh crore in February, an increase of 12 percent during the year