Business Startup Classroom: Recently, during a university program, I asked people that do you have the number of 10 such people in your phone, who can help you with all kinds of problems, guidance whether it is business, medical, legal, bureaucratic, media or any other. Be in the field, able to provide reliable information and support immediately? Only 5-6 percent people were such who raised their hands. Now the thing to be understood is that your network is your net worth, why is it said, it is said that you are the average of the people around you, that means you will become like the people you live with.
Starting a business or any stage, you will definitely need people who can give you all possible help and guidance, if I want to teach a few selected skills to the founders of the startup, then first of all I will teach networking skills. Country's reputed motivational speaker Amar Chaudhary says that "Business does not run with logo", so let's understand how to connect people, so that you can have a big network.
Don't wait for people to connect, be yourself
Today almost 90% of the people I have met in my life are through social media or networking events, from my experience I can say with confidence that even the busiest looking people in the world are available, you just have to find the right way to connect with them . If you feel that you have to connect with such and such person, then go ahead, talk to them. It is very possible that in the beginning you will not get success, but when you bring this in your routine, you will learn how to talk, and 4 out of 10 people will start connecting with you.
don't make friendship with any agenda
This is a big mistake people often make, in the first meeting itself you start expecting that people will start working for you, networking does not happen like this, relationships have to be given time, imagine if someone in the first meeting How would you feel if someone starts expecting something from you? So never befriend with an agenda, take more interest in them than yourself, learn, listen, read about those with whom you want to connect.
believe in contributing more than taking
As I have said above that networking does not happen with the agenda, before what you want from the people, think about how you can be of use to the people, to be honest, you start coming closer to the people in this way. Trust increases and when you are close to someone, people start helping you themselves, you don't even have to speak, whether it is your network or bank account, it is not possible to withdraw without making a deposit, isn't it?
Go to Networking Events
Nowadays, business events are happening in every city, keep an eye on such events near you, and definitely go, you will see that your network will start growing automatically, and not only the network will grow, but you will get to learn a lot by meeting people. Will be able to know what is going on in the rest of the world, which you can use in your business as well.
If you need help ask, don't think
You must have also heard this saying somewhere, that "even a mother does not feed her child without crying", if you need help, feel free to speak without feeling ashamed. To be honest, it seems a bit strange in the beginning, but I have tried it many times myself and 6 out of 10 people definitely extend their hand to help you, the world is very beautiful, you just need to work on your own way. If your approach is right then you will find people who help you.
Use social media properly
If you don't have time to go to physical events then you have huge power in the form of social media, the kind of people you want to connect with, people are already in social media, Linkedin, Twitter, Facebook very effective tool If you want to increase your network, then use these platforms properly, connect with the right people, inbox them, tell about yourself, try to meet them, message if you need help.
I have full hope that if you keep studying these activities and keep working on them continuously, then in one year you will have a network of very good people around you, who will help each other and keep moving forward.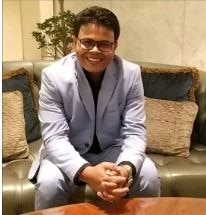 Note: The author is the Founder and CEO of Skilling You, the views expressed are personal.
read this also-
Business Startup Classroom: Understand Trademarks, Protect Your Company and Products
Business Startup Classroom: What should be the right business entity for your startup, understand here
Business Startup Classroom: Important Common Words Used In Startups You Should Know
Business Startup Classroom: How Startup Founders Keep Themselves Motivated
Business Startup Classroom: Is your idea what people need? Why keep startups focused
Business Startup Classroom: What is the importance of bootstrapping for startups, how can you take advantage – learn
Startup Classroom: How to choose a good team for a startup, know the useful tips here
Startup Classroom: Incubation center plays an important role in the success of startups, know how to choose them
Startup Classroom: A better partner is necessary for a successful startup, understand how to choose the right co-founder
Startup Classroom: Before starting a business, learn this skill, then the startup will be successful.
Business Startup Classroom: Know what is beta testing which lays the foundation for startups
Business Startup Classroom: You also need funding for your startup? Learn work tips from experts here
Business Startup Classroom: These are the basic mantras to start a startup, they play a big role in the flight of success